The deal: 50GB of free cloud storage.
Details: ADrive may not be very well known, but it offers a compelling deal. The catch is it's an advertiser-supported platform, so you get a lot of storage space, but a lot of ads too. For 100GB, plans start at $2.50 per month or $25 per year. ADrive has some basic features, such as sharing and backup, but its business and enterprise account offer encryption and multi-user access.
 Apple iCloud Drive
The deal: 5GB of free cloud storage.
Details: Apple iCloud Drive comes with 5GB of free storage. Users looking to bump up their storage can do so for 99 cents month for 20GB, $4 per month for 200GB and $20 per month for 1TB. ICloud is meant for Apple users, but there is an iCloud app for the Windows. Android users would have to use a third-party app to access their iCloud storage.
Box
The deal: 10GB of free cloud storage
Details: Box offers a number of plans, but the basic, single-user free plan comes with 10GB of storage, with a 250MB file upload size limit. The company's other plans are targeted at teams and businesses and include more stringent security measures. A "starter" package for $5 per month comes with 100GB of storage and a 2GB file size limit for up to 10 users. A Business account for $15 per month includes unlimited storage with a 5GB file size limit. Custom-priced enterprise plans are also available.
Copy
The deal: 15GB of free cloud storage.
Details: Copy is a cloud service by Barracuda Networks, an IT company specializing in security and storage. For $5 per month or $49 per year users can get 250GB of storage. There's also an EFSS product named Copy for Companies that starts at $699 for 500GB on a dedicated virtual appliance.
Cubby
The deal: 5GB of free cloud storage.
Details: Made by LogMeIn, Cubby offers additional plans starting at $4 for 100GB of storage. Users can choose many other amounts, including more than 2TBs for $100 per month. There are also business plans that come with additional security and sharing capabilities.
Google Drive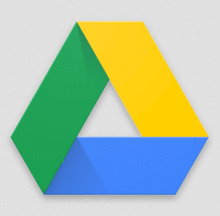 The deal: 15GB of free storage.
Details: If you need more than the 15GB, for $2 per month customers get 100GB of storage, and for $10 per month customers receive 1TB of storage. Any data associated with your Google email account counts against your Drive storage limit, but anything stored in Google Docs, Sheets or Slides does not count against the 15GB limit. Small photos are stored for free in Google, but those larger than 2048×2048 count against your storage.
Microsoft OneDrive

The Deal: 15GB free storage
Details: Microsoft OneDrive (formerly SkyDrive) now comes with 15GB of free storage, with 100GB for $2 per month, while up to 1TB costs $7 per month. Microsoft offers other goodies too, including an extra 15GB of storage when you backup your camera roll to OneDrive, and customers can get an extra 5GB by referring friends (refer up to 10 friends at 500MB free for each friend). Microsoft Office, which gives access to Microsoft apps such as Word, Excell and Outlook, costs $7 per month (or $70 per year) and comes with 1TB of storage.